Save Her A Seat - why I can stomach asking my friends for money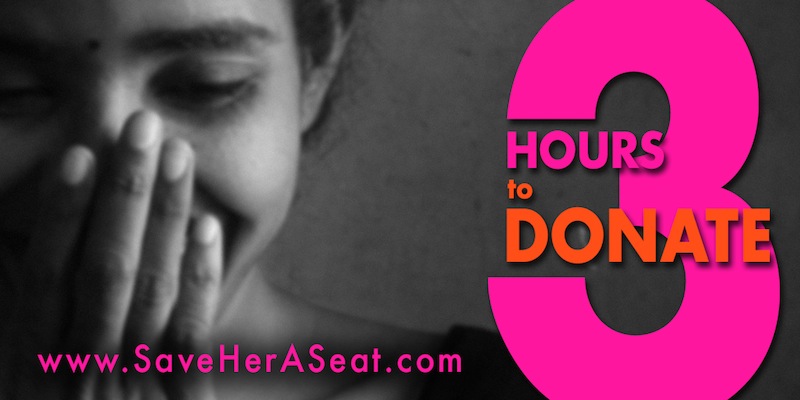 SAVE HER A SEAT - WHAT IT MEANS TO ASK FRIENDS FOR MONEY
SELVI'S DREAM - I woke up this morning thinking, "why am I doing this, asking my friends, family, colleagues and strangers to support another Indiegogo campaign?" I started this post with an apology, but as I wrote (and wrote and wrote and deleted), I remembered why I'm raising money to screen Driving with Selvi with Indian girls at risk of child marriage (btw that would be 47% of all Indian girls!).
I'm doing this for Selvi. I made a promise to her 10 years ago that the burden of the camera, and the weight of reliving the pain of her past would pay off. Since we released the film a year ago, Selvi has traveled the world. She's taken selfies in front of the statue of liberty the CN tower, jumped on a Taj Mahal bed, eaten my mom's minestrone, taken a boat along the canals of Amsterdam, talked at the UN and Ford Foundation and in front of 100s of philanthropists. She has met Bollywood stars, spoken to an audience of 600 kids who asked questions in all 5 of the languages she speaks, eaten calamari on the streets of Brussels, started saving money for her kids university, and learnt to like cheese.

All of this is wonderful and with each new experience she has grown. But none of this is the pay off we spoke about that sweltering day in her blue stained single room house, so long ago.
"I will make this film only if sharing my story will inspire even just one girl to get out of her bad situation and create a better life for herself like I did."
That's what Save Her A Seat is all about. To show the other 47% of Selvis out there that they too can sit in the drivers seat of their own lives. So, if you are still reading, it would be grand if you'd support Selvi's dream – the campaign will end at 11:59 tonight EST.
Elisa Paloschi - with just 12 hours to raise the remaining $12,500 of our $30,000 goal