September 2015 Newsletter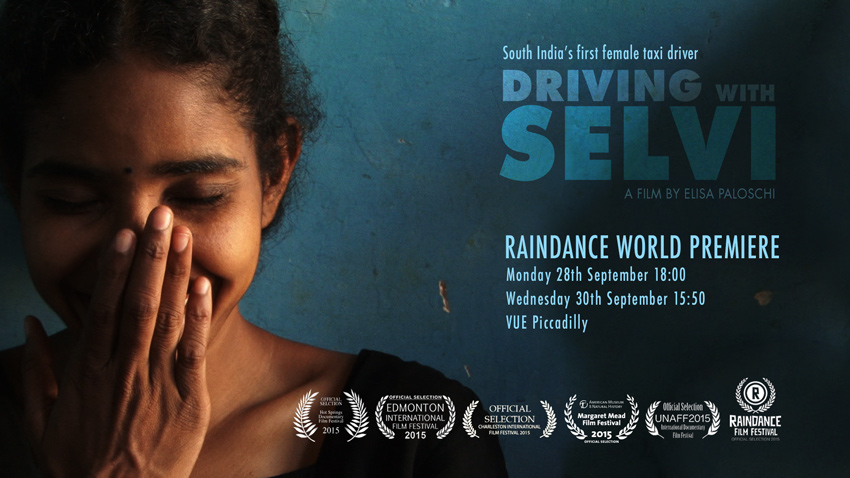 Hello Friends,

A quick personal note to say that I'm on my way to London, I can hear the gate calling! You'll see below that we are fundraising again, this time to bring Selvi to some of the festivals where the film is screening, and also for the film's social impact campaign. We're doing this through Indiegogo, though in a very unorthodox way. We are not offering perks. None. Every cent minus the Indiegogo fees will go directly to the work we are doing. Many of you have been asking how to contribute, I hope you'll find this a simple way.

Hope to see you at one of our screenings soon, Elisa
RAINDANCE SCREENINGS
We're so chuffed – the World Premiere of Driving with Selvi will take place at the
Raindance Film Festival
this coming Monday! We can't wait to share the film with all our friends in London, UK:
World Premiere: Monday, 28 September, 18:00
2nd screening: Wednesday, September 30, 15:50
Location (both screenings): Vue Picadilly
Elisa will be in attendance for both screenings and Q&As.
Tickets
have gone on sale! It's an intimate theatre, so if you are planning to come, please get your ticket early. If you are going to be there, let us know, or make sure to say hello to Elisa.
MORE FESTIVAL NEWS
We now have dates for the following festivals – and tickets are already on sale for some of them. Elisa will be in attendance for all but Charleston (see note about Selvi).

Edmonton International Film Festival, Edmonton, Canada

Hot Springs Documentary Film Festival, Hot Springs, USA

UNAFF (United Nations Association Film Festival), Palo Alto, USA (opening night!)

Margaret Mead Film Festival, New York City, USA.

Charleston International Film Festival, Charleston, North Carolina, USA,

More very exciting festival announcements to come – stay tuned for our next newsletter, or get up-to-the-minute news on Facebook or Twitter.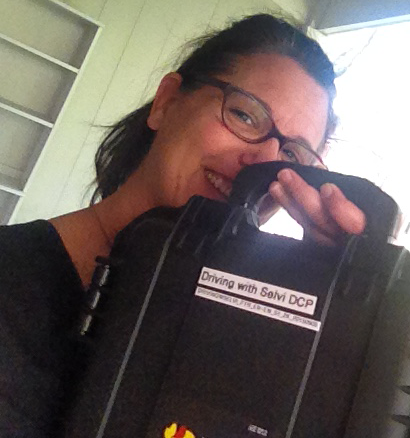 FILM STATUS
We're thrilled to say Elisa wrapped post-production on the film last week. Here's a nice photo of her holding the DCP copy (a special format used by theatres only) that many of our festivals will use to screen the film.

All the best,
- Elisa, Selvi, Julia, and the whole Driving with Selvi Team
To read the original newsletter click here